Isaac's Story – Season of Giving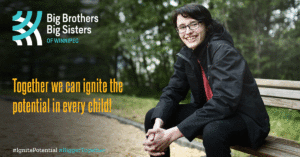 For over 50 years Big Brothers Big Sisters of Winnipeg has been enabling life-changing mentoring relationships, reminding our youth that they can be anything they dream of being. I'm asking you to make a donation, because with your support and generosity, together we can ignite the potential within every young person.
Many children and youth in Winnipeg struggle with societal barriers and face adversities in their lives. These circumstances have nothing to do with the value of who they are, or who they can become. Yet because of these situations, children and youth risk not having the opportunity to live up to their full potential. We know that with the guidance and support of a mentor, the risks our youth face can be reduced or even avoided altogether.
To demonstrate the power of mentorship and how your support can make a positive difference in the lives of our young people, I wanted to share Mike and Isaac's story with you. Their first mentoring moment took place on the basketball court, when Isaac was 9 years old. They developed a strong bond over their mutual love of sports and other community activities. Nearly a decade later, Isaac is pursuing his passion as a first-year student in sports management. He credits his relationship with Mike as a game-changer, helping him gain confidence and set post-secondary goals.
"When I was struggling in school, my mom realized I needed a little extra help emotionally from a male role model," remembers Isaac. "I am proof that Big Brothers Big Sisters does make a big difference in a child's life." 
In turn, Mike is also deeply grateful to have Isaac in his life. "I've gotten as much support from the relationship as Isaac has," Mike admits. A thought echoed by countless Big Brothers Big Sisters volunteers across the city. "Seeing Isaac evolve into such a confident leader in his own right makes me feel very proud," says Mike, who also encourages others to get involved, emphasizing the professional support Big Brothers Big Sisters offers to volunteer mentors.
"Mike helped me become the person I am today," says Isaac. "I hope that one day, I can become a Big Brother to someone who also needs that opportunity."
A mentoring moment positively impacts everyone involved in the relationship – the family and youth, the volunteer mentor, and Big Brothers Big Sisters staff. That effect ripples out into the community. And it all starts with you, the donor.
Within every child there is great potential! Our team knows that a caring relationship with a stable adult is critical for buffering the impact of toxic stress on a child's brain. That's why the mentorship we provide is built on establishing deep connections between our Littles and our Bigs. This year has been a challenge unlike any we have faced before. The COVID-19 pandemic has increased the barriers our youth face and has presented new challenges in building deep meaningful connection between mentors and mentees.
Facing the reality of the COVID-19 pandemic, we've had to rethink and innovate how we deliver our essential programming. The fundamentals of what we do remains the same; when we provide young people facing adversity with a committed mentor, we are decreasing their risk factors and igniting potential. We all understand and respect the need to be physically distanced, but we refuse to allow our youth to feel socially isolated. That's why our team has been working tirelessly moving our programming online and discovering new ways for our Bigs to engage with their Littles virtually.
Big Brothers Big Sisters of Winnipeg exists to not only make Isaac's story a reality, but countless others like him. The truth is that we can't do it alone, we need support from people like you. I'm asking you to make a donation and be a part of a community that empowers young people to dream big and be all they can be.
Together, we can ignite potential in every child!