Mentoring Takes Flight Raffle!
Please see our new event page for more information on how you can win 2 roundtrip Westjet tickets through our new raffle! Please enter early and often, as every ticket increases your chances to win! See event page for details, rules and to purchase your tickets today!
Best of Luck!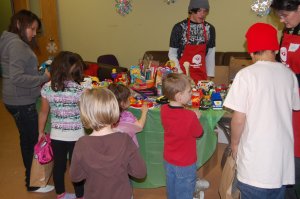 Rudolph Red Tag Sale
This is an opportunity for all Little Brothers and Little Sisters to purchase items for their families, and important people in their lives. All items are sold for a small amount, 5 cents to 50 cents. Giving our mentees a chance to buy gifts for the special people in their lives is what the holiday season is all about!
Every year this event is made possible by event volunteers who wrap presents, donors of gifts, activity volunteers, and a host of staff and members who come together to celebrate the holidays together. Find out how you can get involved today.

February 24th, 2018
The 2018 Bowl for Kids Sake took place Saturday, February 24, 2018. This is the largest annual fundraising event for our organization. Thank YOU for your participation in the event and support of mentoring services for local children and youth.
Please click below to see more about the event!