Current Career Opportunities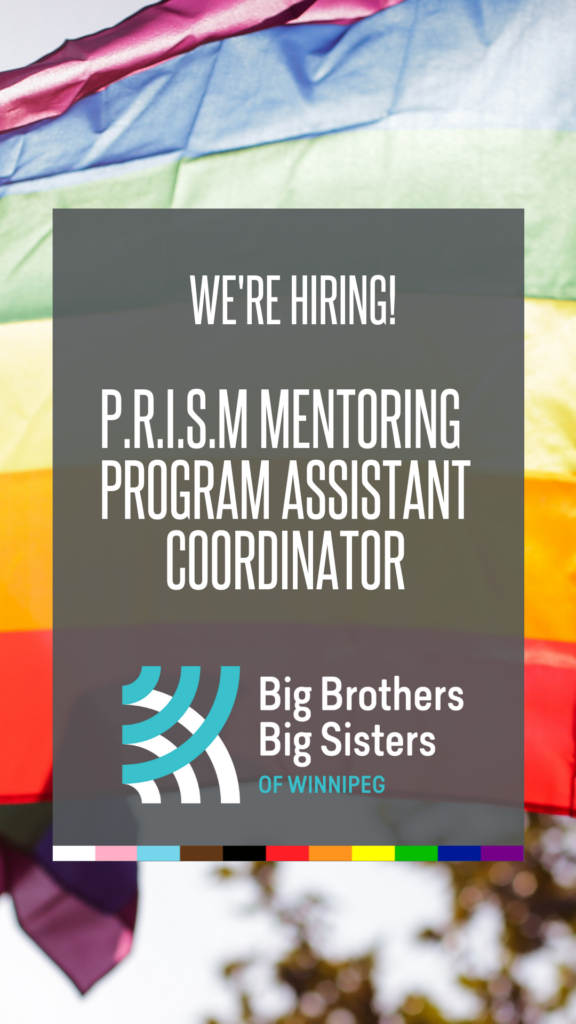 P.R.I.S.M Mentoring Program Assistant Coordinator
JOB DESCRIPTION
Big Brothers Big Sisters of Winnipeg has been providing mentoring to Winnipeg's youth for 50 years. As we diversify and grow, develop innovative programs, and serve more youth in Winnipeg through creative collaborations, we are looking for a full-time (1-year term to start) program staff to join our P.R.I.S.M 2SLGBTQ+ mentoring program team.
Big Brothers Big Sisters of Winnipeg is dedicated to creating and continuing to build safe spaces for all people. We acknowledge the oppression and challenges faced by a multitude of marginalized groups and value lived experience. We encourage all applicants to submit and will be prioritizing Queer and BIPOC applicants at this time. We look forward to learning about you, your story, and what you would bring to our team.
You will specialize and be passionate about positive youth development, and understand the crucial impact of healthy relationships between caring folx.
You will be a key member of the program team who provides assessment, training, monitoring and support to volunteers and mentee. You will also be responsible for facilitating PRISM Group Programs both in-person and virtually.
JOB DETAILS
Full-Time, 12 Month Contract

$38,000.00-$40,000.00 per year

Please include a cover letter with your application.

Deadline is August 17th, 2021

Applications should be emailed to Mackenzie Kolton, PRISM Program Coordinator.