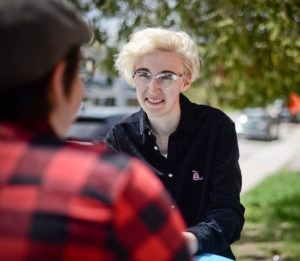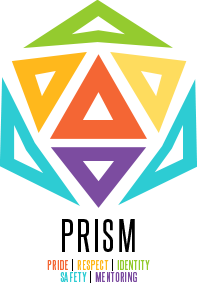 Testimonials
"We just laugh and chat about anything – I think him being trans helps with that – he just gets it"
– Mentee
"We were matched just after my Little came out, we learn from each other every time we meet, and seeing her confidence grow over the last couple years has been so inspiring!" 
– Mentor
"It has surpassed my expectations – it's a wonderful match and really good for him and his confidence. I think having someone to relate to who shares an identity has made all the difference"
– Parent
PRISM – Mentoring for the 2SLGBTQ+ community
Program Overview
PRISM is an innovative mentoring program designed specifically for the 2SLGBTQ+ community in Winnipeg.
The first of its kind in Manitoba, the PRISM program matches children and youth who identify as 2SLGBTQ+ with an adult mentor who also identifies as 2SLGBTQ+ for a one on one mentoring relationship. Through regular outings, the match will foster a friendship that is supportive, empowering and fun!
The purpose of a PRISM match is to:
Provide role models for 2SLGBTQ+ children and youth
Foster pride and self-confidence
Create inter-generational connections within Winnipeg's 2SLGBTQ+   community
Offer 2SLGBTQ+ children and youth a safe adult mentor to  discuss identity with
and above all, have fun!
Children and youth interested in being matched with a mentor must:
Self identify as 2SLGBTQ+
Be between 9 and 17 years old
Want a mentor who identifies as 2SLGBTQ+
The 2SLGBTQ+ community has a rich legacy of forging informal mentoring networks as a mode of survival. Today, the community has made great strides, yet 2SLGBTQ+ youth continue to face barriers. Research shows that formal mentoring programs are a powerful, protective factor for this demographic as they develop their own unique sense of self.
Do you have questions about our PRISM program? Contact our PRISM Program Manager, Mackenzie Kolton: mackenzie.kolton@bigbrothersbigsisters.ca 
Thank you so much for your interest in our PRISM mentoring program. At this time we are focusing on volunteer mentor enrolment and building new resources for caregivers, mentors and mentees. Our mentee intake is paused until March 2022. When enrolling, your name has been added to a waitlist and we will follow up with you once youth enrolment resumes.
Volunteer Requirements
The PRISM program requires volunteers to commit to one outing per week, for a couple of hours. Mentors and mentees are asked to commit for a minimum of one year.
Volunteer mentors are extensively screened and properly trained before they are matched. Each match receives the ongoing support of a professional caseworker through Big Brothers Big Sisters of Winnipeg.