The staff at Big Brothers Big Sisters are working hard to find fun things for families, youth and volunteers to do while we observe the social distancing protocols in place. In an attempt to support digital nearness, we will be posting a #dailychallenge. We will try to strengthen our spirits, our minds, have fun and play together. Be well. Stay positive. We are in this together. You can also find them on our Facebook page. If you haven't already liked and followed our page, now is the time!
If you have suggestions please mail them to director.wpg@bigbrothersbigsisters.ca
Daily Challenge #1
The pieces must fit according to the rules. There is no rotation or reflection of the pieces. Check back tomorrow for the answer.
(Source: https://brilliant.org)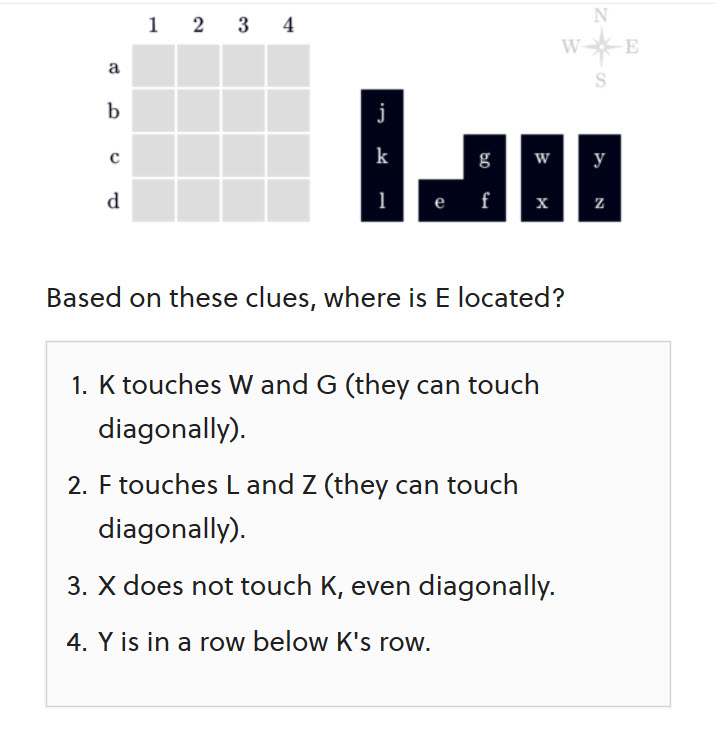 Daily Challenge #2
Today's challenge is a creative one- the 30 circles exercise. To complete this challenge, simply print off a blank copy of the circles image or draw 30 circles on a blank piece of paper. Now try to turn as many of the circles into recognizable objects in three minutes (or more time if you need). Get creative and have fun with this one!
Daily Challenge #3
For today's challenge, we are shifting gears to a mental/spiritual wellness challenge. If meditation is something that feels comfortable for you right now, try a 5 minute meditation challenge today. Meditation is proven to reduce stress, improve emotional well-being, improve sleep, enhance self-awareness, control anxiety, and more!
Please use this great 5-Minute Guided Meditation video: https://www.youtube.com/watch?v=8Xdwr4cRTVA.
Daily Challenge #4
For today's challenge we bring you the wellness wheel exercise (courtesy of staff member Wendy- thank you!). Please see the first image below for an example of how to draw the wellness wheel. Take a look at the second wheel for ideas of what can go into each category. Draw a wheel, put your name in the centre and fill it out the things you do that fit into each wellness category.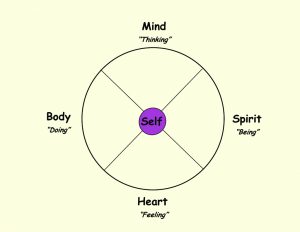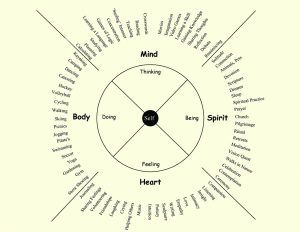 Take some time to ponder:
Are there some things that fall into multiple categories?
Which aspect is easier for you to identify with? Which aspect is most difficult?
Which area requires more attention? Can you come up with some ideas of what you could be doing to support those areas of self-care/wellness?
Would it be helpful to have this image or something like it hanging somewhere as a reminder?
Caveat: We are all doing the best we can and if all you're able to do is survive the day, good on you! That's all you really need to be doing, and it is hard work. The pressure to do or explore self-care shouldn't be one more thing that causes us stress. So if this activity doesn't seem like something that would feel good right now, we encourage you to opt out.
Important Note: This activity is based on the Indigenous Medicine Wheel. If you'd like a deeper dive and to do some reading of how this can be used in practice, please read: Wellness Wheel: An Aboriginal Contribution to Social Work  http://tapwewin.pbworks.com/w/file/fetch/52896768/LoiselleMcKenzie.pdf
Image credit: http://www.hospiceyukon.net/S_C_Wheel.html
Daily Challenge #5
Here's a fun challenge for kids and adults alike! Test out your origami making skills and get creative. Here's a great website to get started with some easy origami: https://www.origami-fun.com/origami-for-kids.html. Take a a photo of your creations and send them to us!
Daily Challenge #6
Let's get moving this Monday! Here's a fun physical challenge to get our blood pumping and release some endorphins to increase positivity today.
This challenge is simple: grab your fur baby, your partner, kid(s), or go solo, and put on a song that energizes you, sets the tone for the week, or recalls happy memories, and dance in whichever way you are comfortable! (Are you a seasoned boot-scoot-boogier? Do you Love the sprinkler or the lawn mower? Perhaps the Cha Cha slide is in order this Monday morning.)During this time, we all may feel some unrecognized tension in our bodies; so celebrating our bodies and exploring our movement in whichever way is accessible and enjoyable can help alleviate our global anxiety.An added challenge could be to learn steps to a routine, or a popular dance move. Check out this great video by staff member Brianna and her family for an example to get started. They did such a great job with the the TikTok "Foot Shake Dance"! What will you be dancing to today?
Daily Challenge #7
For today's daily challenge, we present to you a brain teaser challenge! Play the Outspell game which is simialr to Scrabble at this link here: https://games.washingtonpost.com/games/outspell/
Daily Challenge #8
Today's challenge is a brainteaser that is making it's way around the internet. Can you spot the hot air balloon in this image? The creators say it takes the average person 1 minute and 14 seconds. Can you beat this time?
Let us know how long it took you to find the hot air balloon! Have fun! https://www.thebigdomain.com/big-journal/summer-brainteaser
Image source: big domain
Daily Challenge #9
This is a fun and challenging media based brain teaser. Can you guess which shows/media characters these lines and colours represent? Answers will be posted tomorrow!

Image source: CBC Now or Never
Daily Challenge #10
Here's a fun challenge for today, some fun trivia to complete. Find out what the #1 song on your 12th birthday was! To get started you can search on https://www.mybirthdayhits.com/ and enter your birthday and it will list all the #1 songs on your birthday each year. Enjoy!
Daily Challenge #11
Here's a cute challenge for today- make some handprint bunnies! It's easy and anyone can do it 🙂 Share your handprint bunnies with us on our Facebook Page. Watch the video below for instructions:https://www.facebook.com/watch/?v=559347998027322
Daily Challenge #12
Can you solve this math challenge? Answer will be posted tomorrow on our Facebook Page!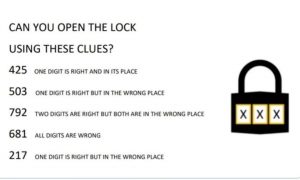 Daily Challenge #13
Here's something really fun to do with your family today, a book scavenger hunt! Let us know in the comments how many books you used and how long it took you to complete this challenge.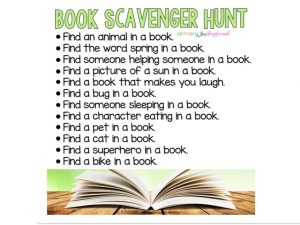 Image source: Primary Playground
Daily Challenge #14
Here's another brain teaser puzzle for you today! Can you figure out this math challenge?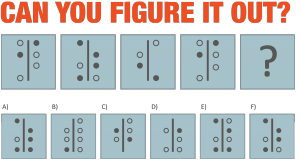 Image credit: digjamaica.com
Daily Challenge #15
Today's challenge is the Stroop Test! Here's how it works. Read aloud what color you see in every word, NOT the word you read. Go from left to right, from top to down. This test is often used in neuropsychological evaluations to measure mental vitality and flexibility, since performing well requires strong attention, inhibition and self-regulation capability.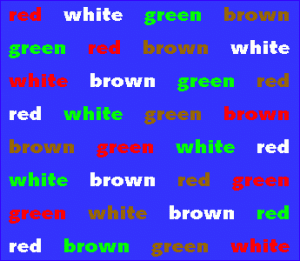 Daily Challenge #16
This movie challenge has been making the rounds on social media. Can you name the 27 movies pictured in this image? Answers will be posted tomorrow!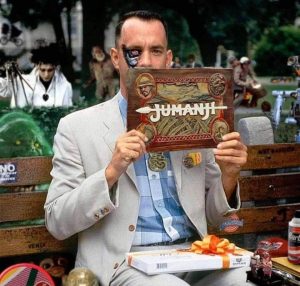 Image credit: https://www.thesun.co.uk/fabulous/11281892/brainteaser-challenge-find-27-movies-hidden-photo/
Daily Challenge #17- April 10th, 2020
Today's challenge comes to us from Family Math Night. Find as many math related items as you can around your house and be the first one to get BINGO!
Daily Challenge #18
For today's challenge, here's another fun brainteaser from gimmemore.com. Can you spot the cat amongst the buildings?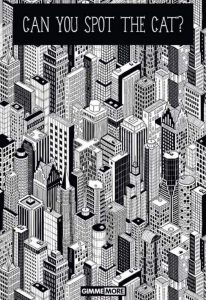 Daily Challenge #19
Here's a fun word brain teaser challenge! How many can you solve?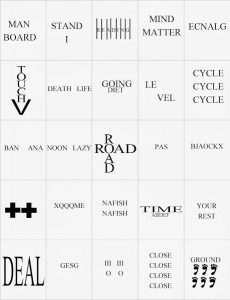 Daily Challenge #20
We love quotes- and here is a great one by Maya Angelou. What are some of your favourite quotes? Send us a message or comment on our Facebook page and let us know what some of your favourite quotes are!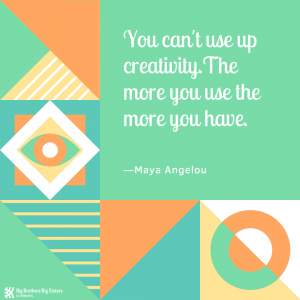 Daily Challenge #21
Get moving today! Whatever that looks like for you- simply doing some stretches, to going for a safe walk outside, exercising inside on the treadmill, a few yoga poses, playing catch with a family member, or whatever you enjoy doing to be active! Aim for 10-20 minutes (or longer) if you can!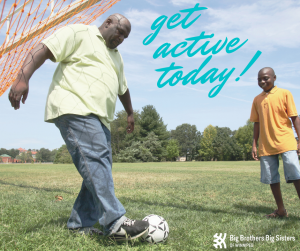 Daily Challenge #22
In honour of Earth Day pick one thing that you can commit to doing (now or in the future) to help our planet. Some ideas to help get you started: Grow a garden this year, plant flowers that attract bees, pick up litter in your neighbourhood (safely of course), reduce your waste, or research to learn more on how you help be a good steward of the earth.
Here's a great infographic from Kids Discovery with some more tips on how to reduce your imapt on the earth!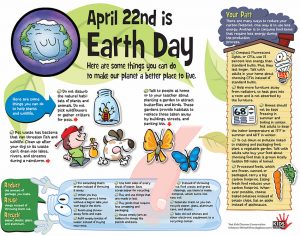 Daily Challenge #23
Here's a great word search from our friends Big Brothers Big Sisters of Langley. Print it out and have fun!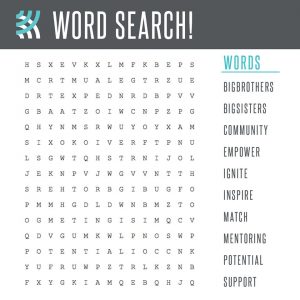 Daily Challenge #24
Today's challenge comes to us from our friends Evermore Gather Grow Lead Inc.. Make your own monster! What a fun project. Try it out and share photos with us of your very own monster by emailing them to cheryl.sobie@bigbrothersbigsisters.ca.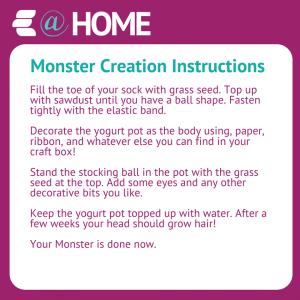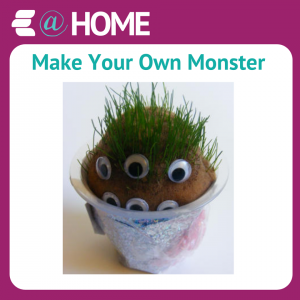 Daily Challenge #25
Can you find the mouse hidden among the mushrooms? How long did it take you?
Image credit: Gergely Dudás – Dudolf
Daily Challenge #26
Here's a fun puzzle from Math Salamanders. Solve this Captain Square puzzle to determine how much each salamader is worth. Answer will be posted tomorrow!
Daily Challenge #27
Can you find all the Y's hidden in the pizzle (*hint there are 5). How long did it take you?
Image credit: Playbuzz.com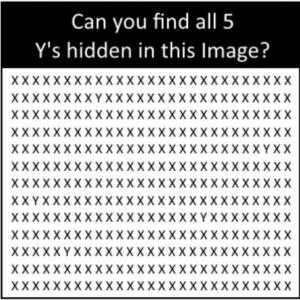 Daily Challenge #28
Can you solve this word puzzle? These numbers and letters stand for common phrases. Answers will be posted tomorrow!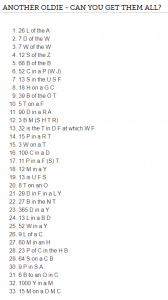 Daily Challenge #29
Try out this nature scavenger hunt from the Winnipeg School Division today!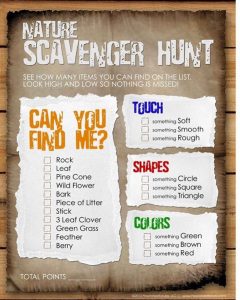 Daily Challenge #30
For today's challenge, pick one thing from this list for you and your family to do to help our earth. Every action helps, big or small!