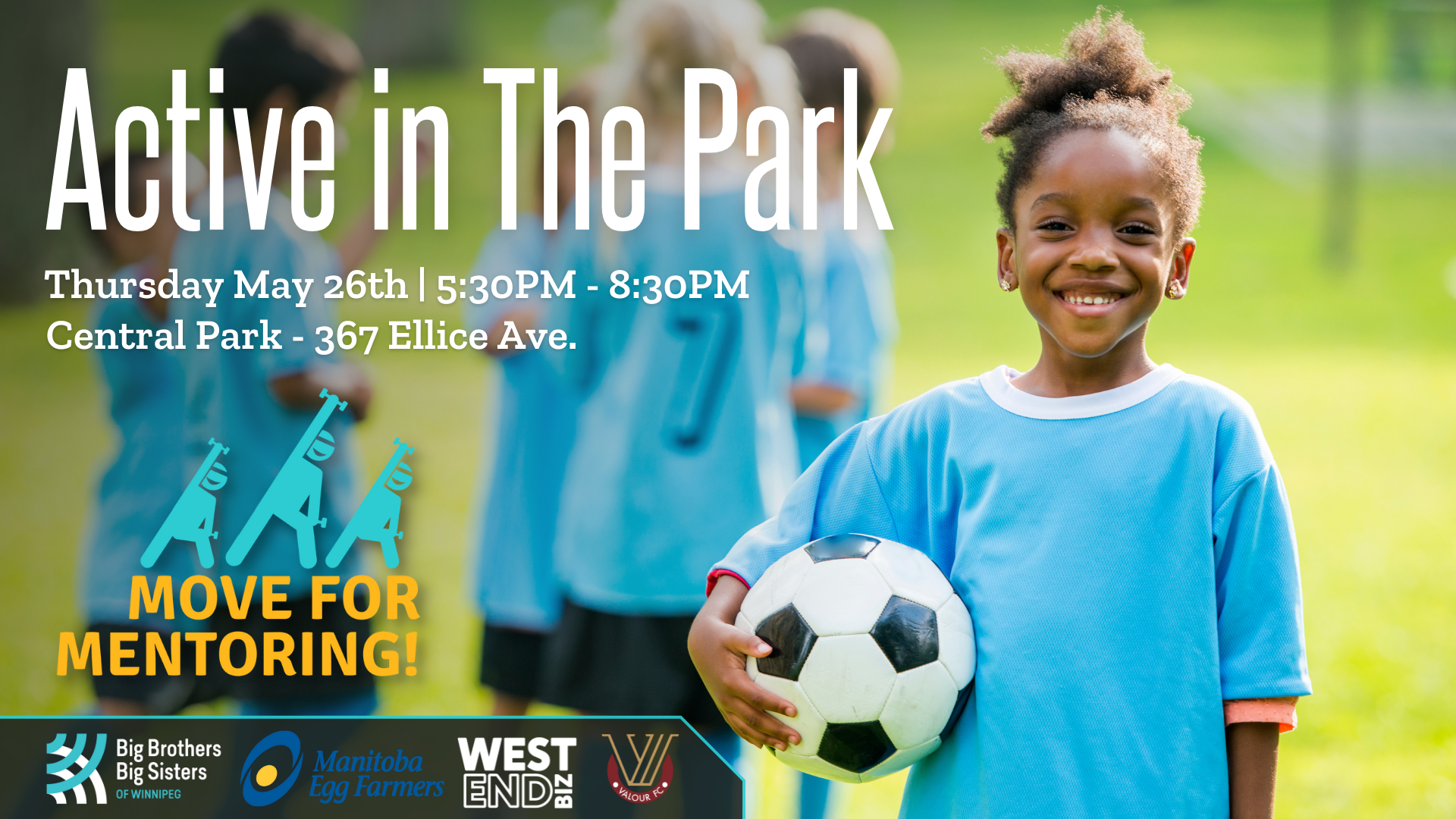 Active In The Park – Move For Mentoring
Let's get Active in the Park!
Join us Thursday May 26th at Central Park – 367 Ellice Ave, where the whole Big Winnipeg community will get in the soccer spirit with players from Winnipeg's Premier League soccer team, Valour FC!
Get your photo taken and collect autographs from Valour FC's elite soccer players. Take part in soccer drills and meet Vic The Lion, Valour's official mascot. This event is free and open to all families & young people in Winnipeg!
• 5:30 PM – Welcome and Warm Up Stretched
• 6:00 – 7:30 Soccer Activities and Games
• 7:30-8:30 Pick-up soccer with Valour FC athletes!
The West End BIZ will be providing Mini Central Park Walking Tours that will be roughly 30 minutes in length and will run throughout the event. This tour will walk you through the history of the park, the surrounding architecture and so much more. The first tour will run at 5:45pm
Food: Snacks and water bottles will be provided on a first-come-first-serve basis; however, we do encourage you to bring your favourite water bottle to cool down throughout the event. Water fountains are available at the park to refill your bottle.
Washrooms: Public washrooms are available for-use.
Parking: There is no designated lot for parking, but plenty of on-street parking is available, and it's free after 5:30PM.
You don't need to be a soccer pro to have a good time! We look forward to seeing you there!
A special thanks to our Move For Mentoring Presenting Sponsor Manitoba Egg Farmers, our Event Day Sponsor the West End Biz, and our Official Partner Valour FC!