Move For Mentoring – Presented By Manitoba Egg Farmers
JOIN US TO GET MOVING TO SUPPORT THE MENTAL HEALTH OF YOUNG PEOPLE IN OUR COMMUNITY
Get Up ~ Get Active ~ Ignite Potential
ABOUT MOVE FOR MENTORING – PRESENTED BY MANITOBA EGG FARMERS
If you play soccer, tennis or golf; or if you run, walk or dance – Move For Mentoring is for everyone! Regardless of physical ability, varying levels of mobility, or fitness level, this event is for you!
Welcome to Big Brothers Big Sisters of Winnipeg's Move for Mentoring, presented by Manitoba Egg Farmers in partnership with Valour FC.  We hope you will join us and get moving to support mental health for young people in our community.  
In Move For Mentoring, all participants will challenge themselves and each other to be active in their own way, and in doing so raise pledges in support of young people in Winnipeg!
We're aiming to raise $15,000 to support youth mental health services here at Big Winnipeg! Will you get MOVING to support youth MENTORING?
WHEN IS MOVE FOR MENTORING?
Sunday May 1st until Tuesday May 31st.   
WHAT ARE WE FUNDRAISING FOR?
We believe every child should feel loved and supported! The pandemic has presented some real mental health challenges for all of us, this is felt even harder by young people. We're proud to have launched an in house counselling program during the pandemic, but we need your help to keep this program running. With your support, we can continue to provide life changing mental health services. 
SO LET'S GET A MOVE ON!  REGISTER NO IN 5 EASY STEPS!
1. SIGN UP
Register an INDIVIDUAL! It is super simple to sign up for our Manitoba Egg Farmers – Move for Mentoring Challenge! Just create your individual fundraising page to get started!  
Register a TEAM! The more, the merrier! Grab a friend or two or ten and complete the challenge as a group. Or better yet – grab the rest of your family and get moving together!  
2. SET YOUR GOAL
All you need to do is select your favorite way to stay active. Need some inspiration? Take a look at the Move for Mentoring ideas below.  
3. RAISE PLEDGES FOR A GREAT CAUSE
Tell all your friends, family or co-workers about your challenge! They will have until May 31st to contribute.  
4. BRAG ABOUT IT!
Post a picture or share a video of your Move for Mentoring journey. Don't forget to tag us on social media and use the hashtag #MoveForMentoring so we can share your impact! You can also email us photos of your journey as we'd love to share your progress on social media! 
5. COMPLETE YOUR ACTIVITY
How you complete your activity is up to you!  Complete each time you receive a donation, once a week or before the final event day on May 31st.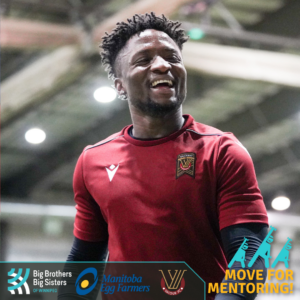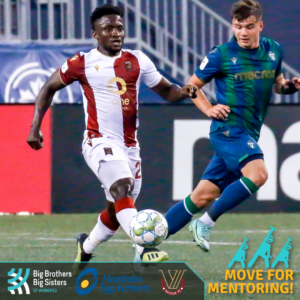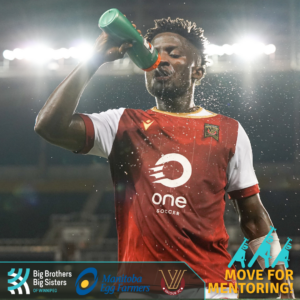 WHY WE NEED YOUR HELP!
It is more important than ever that we protect and support meaningful mentoring relationships for young people in Winnipeg. We are committed to continuing our work and finding new ways to deliver life changing, developmental relationships that foster resilience in the face of adversity. We know that exposure at a young age to adversities like trauma, mental health, abuse and loss of a parent can negatively affect the developing brains and bodies of children and youth. Safe and caring relationships are a powerful force in combating these negative effects. This is why Big Brothers Big Sisters of Winnipeg is working hard to keep our virtual mentoring programs going.  
Big Brothers Big Sisters of Winnipeg serves between 600-700 young people annually! All Move for Mentoring proceeds will help support mental health for young people in our community.  
MANITOBA EGG FARMERS
Manitoba Egg Farmers represents 170 regulated egg and pullet farmers across our province and is an independent organization, funded entirely by egg and pullet farmers.  
Egg farmers are the primary caregivers of their hens that produce about 76 million dozen eggs in Manitoba each year. On average, each egg farm has about 15,000 laying hens which lay approximately 380,000 dozen eggs each year. There are approximately 2.6 million layers in the province of Manitoba, which represents almost 10% of the market share in Canada.